Solidarity statement of the MTA-ELTE Lendület SPECTRA Research Group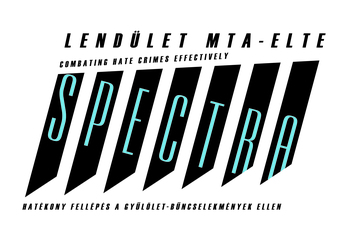 Members of the MTA-ELTE Lendület SPECTRA Research Group exploring the effective actions against hate crimes were shocked to learn that the National University of Public Service has terminated the contract between Prof. Andrea Kozáry and the Faculty of Law Enforcement with an immediate effect.
Andrea Kozáry has been involved in the education and advanced studies of police officers at NUPS and its legal predecessor, the Police College, for more than 25 years. During her professional career, she has conducted research on numerous areas of policing, delivered lectures and courses in Hungary and abroad. She focused on important but less explored topics such as hate crimes, the possibilities and perspectives of mediation between minorities and police officers, or the first steps of the Hungarian community policing. She published her research findings in numerous books, book chapters and academic articles in Hungarian and foreign languages. Her involvement in international research projects and scientific tenders is very diverse, including Conflict Resolution, Mediation and Restorative Justice and the Policing of Ethnic Minorities in Germany, Austria and Hungary (COREPOL); Facing all the Facts; Commonality in Police Higher Education in Europe (ComPHEE); and Support and Advice through Health System for Hate Crime Victims (SHELTER). These activities are not only of extreme importance in Hungary but also exemplary at the international academic scene. She is a member of the European Union Agency for Law Enforcement Training's (CEPOL) Short Term Strategy Working Group, and she participated as a trainer or participant at countless CEPOL programs and courses.
The professional competence of police officers and investigators is particularly important in the fight against hate crimes. In 2016, Hungary committed itself before the UN to provide trainings for a wide range of police officers in order to help them recognize the bias motivation behind violent attacks. The removal of Andrea Kozáry from the police education also undermines the accomplishment of this obligation, since as a university lecturer she has been a primary, committed and highly competent colleague involved in hate crime training programs and she provided a solid professional basis for academic and practice oriented events.
Andrea Kozáry's dismissal with immediate effect resulted in the loss of a prominent researcher and lecturer of NUPS. The circumstances of her dismissal, the steps taken against students' participation at a conference on anti-LGBTQI hate crimes she co-organized are worrying both in terms of academic freedom and effective actions against hate crimes. It is to be feared that the gap Andrea Kozáry leaves behind in the organization and preparation of police trainings related to the subject will not be filled. Taking into consideration her career, her activities, and our positive experiences we gained throughout our joint professional activities, we are appalled at her dismissal and we are concerned about the training of police officers and the transfer of knowledge about tackling hate crimes.