Eszter Kirs's presentation at the University of Minnesota Law School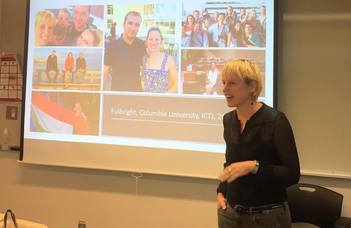 Eszter Kirs, a member of our research team spends the Fall semester of the academic year of 2019/20 at the Human Rights Center of the University of Minnesota Law School as a Fulbright visiting scholar.
She brings US students attending her classes close to the operation and the case law of the European Court of Human Rights, while she is continuing her research conducted in the framework of the Lendület research group. On 16 October 2019, she was speaking about her professional experiences and career path, including her activities related to the issue of hate crimes, at the event series titled 'Human Rights in Practice' organized by the Human Rights Center.