'Call It Hate' Budapest Conference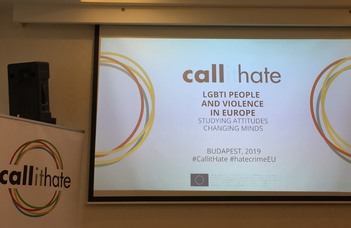 On September 26, 2019, Erik Uszkiewicz, member of our research group, held a presentation at the final conference of the 'Call It Hate' .
The project was implemented in 10 European countries by a consortium of almost 50 partner organizations, with the support of the European Union. The two-day conference, which attracted national and international hate crime experts, including police officers, civil activists, scholars, victim supporters, provided a forum to learn more about the latest research findings related to hate crimes in Europe; different types of NGO – law enforcement co-operations; and it also offered international networking opportunities. Erik Uszkiewicz in his presentation summarized the latest research findings related to the experiences of LGBTQI victims of hate crimes in Hungary, the causes of high latency, and the causes of lack of trust in the police.
You can read more about the project here.